Faculty Resource Network (FRN) es una asociación entre universidades públicas y privadas, creada para promover el desarrollo profesional docente. El FRN fomenta la formación y fortalecimiento de redes de colaboración entre los miembros de las diferentes instituciones académicas que la componen. La UPR-Cayey es una de las universidades que componen el FRN.
A continuación, proveemos información de las próximas actividades que estará ofreciendo el FRN:
NETWORK SUMMER 2020 SEMINARS
8-12 de junio de 2020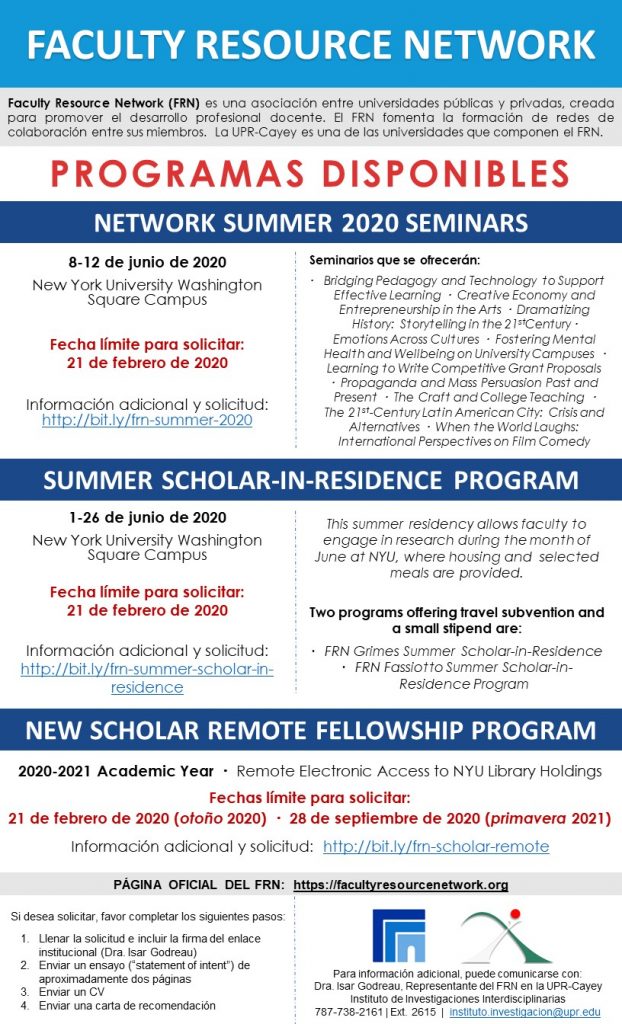 New York Washington Square Campus
Fecha límite para solicitar: 21 de febrero de 2020
SUMMER SCHOLAR-IN-RESIDENCE PROGRAM
1-26 de junio de 2020
Fecha límite para solicitar: 21 de febrero de 2020
NEW SCHOLAR REMOTE FELLOWSHIP PROGRAM
2020-2021 Academic Year
Remote Electronic Access to NYU Library Holdings
Fechas límite para solicitar: 21 de febrero de 2020 (otoño 2020) y 28 de septiembre de 2020 (primavera 2021)
Las descripciones de los programas y las instrucciones para solicitar están disponibles en línea: https://facultyresourcenetwork.org/
Si desean solicitar, deben completar los siguientes pasos:
Llenar la solicitud e incluir la firma del enlace institucional (la Dra. Isar Godreau)
Enviar un ensayo ("statement of intent"), de aproximadamente dos páginas
Enviar un CV
Enviar una carta de recomendación (puede ser del enlace de FRN, Decano de Asuntos Académicos o del Director de su Departamento).
De tener cualquier pregunta, pueden comunicarse al Instituto, las extensiones 2615 o 2616, con la Dra. Isar Godreau, (isar.godreau@upr.edu) y/o con la Dra. Mariluz Franco, (mariluz.franco@upr.edu).
---