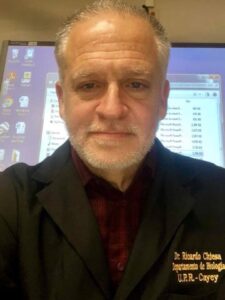 Título/Appointment: Catedrático
Departamento/Department: Biología
Institución/Institution: UPR-Cayey
E-mail: ricardo.chiesa@upr.edu
Teléfono/Phone: (787) 738-2161, ext. 3036
Reseña/Biosketch:
El Dr. Ricardo Chiesa completó su bachillerato en Biología en el Recinto de Río Piedras de la Universidad de Puerto Rico. De inmediato comenzó en el mismo recinto una Maestría en Biología con énfasis en Farmacología, caracterizando los receptores opioides en un modelo ciliado. Una vez terminó su maestría comenzó su carrera docente en el Departamento de Biología de la UPR-Cayey.
En el 1998 obtuvo una licencia de estudios para el recinto de Río Piedras de la UPR, donde realizó un grado doctoral, el cual concluyó en el 2002 en Biología con énfasis en Neurobiología, específicamente en el campo de aprendizaje, memoria y emociones. Su investigación doctoral se enfocó en aspectos genéticos y celulares de los mecanismos de aprendizaje asociativo emocional en la amígdala cerebral.
En el 2002, se reintegró a su cátedra en el Departamento de Biología de la Universidad de Puerto Rico en Cayey.
En sus 31 años de experiencia de enseñanza en la Universidad de Puerto Rico en Cayey, el Dr. Chiesa ha fungido como senador académico, ha sido miembro de la Junta Administrativa y ha dirigido el Departamento de Biología en dos ocasiones. El Dr. Chiesa ostenta el rango de Catedrático y ofrece cursos especializados de Biología Celular-Molecular y Neurobiología. Desde el 2014 trabaja en un nuevo proyecto de investigación en el área de neurobiología y ansiedad. Varias de sus ponencias nacionales e internacionales y publicaciones se destacan en los temas de: aspectos moleculares de procesos de aprendizaje, memoria y emociones, adquisición y consolidación de la memoria emocional, modelo molecular del aprendizaje y modulación emocional, biotecnología y la medicina moderna, entre otros temas relacionados. El Dr. Chiesa posee una vasta experiencia en el ofrecimiento de cursos de mejoramiento profesional y educación continua relacionados a salud mental, aprendizaje y memoria.
En el año 2021, el Dr. Chiesa recibió una subvención de investigación CATALYZER GRANT, de dos años de duración, de parte del Fideicomiso de Ciencias de Puerto Rico (Puerto Rico Science, Technology, and Research Trust), para el proyecto titulado: Discovery and Development of Anxiolytic Agents from Tropical Marine Macroalgae, el cual dirige con la colaboración del Dr. Eduardo Caro (CO-PI), de la Escuela de Farmacia del Recinto de Ciencias Médicas.
Otras investigaciones:
Efectos de extractos alcaloides y proteicos obtenidos de varios géneros de algas pardas nativas de Puerto Rico sobre comportamientos relacionados a ansiedad en Drosophila Melanogaster. (Fondos institucionales FIDI)
Potential anxiolytic effect of brown seaweed organic extracts from the coasts of Puerto Rico in Drosophila Melanogaster: The dark/light box (DLB). (Fondos institucionales FIDI)
Extraction, chemical characterization, and evaluation of the Algae Stypopodium zonale as potential anxiolytic agent. (Fondos institucionales FIDI)
Discovery and development of anxiolytic agents from tropical marine macroalgae. (NIH Go-Through Funds).
Publicaciones:
Mejías, K., Robles, G., Martínez, Z., Torres, A., Algarín, L., López, G., Chiesa, R. (2016) Effects similar to anxiolysis in an organic extract of Stypopodium zonale on an anxiety related behavior in Drosophila Melanogaster. American Journal of Undergraduate Research, Volume 13, (Issue 4), 69-76. http://www.ajuronline.org/uploads/Volume_13_4/AJUR_Vol_13_Issue_4_12302016_Full.pdf
Ferrer, A., Correa, B., Fonseca, H., Vázquez, L., Leotó, J., Vidal, M., Alvarado, Y., Santos, L., Arizmendi, A., Chiesa, R. (2020) Potential anxiolytic effects of brown algae organic extracts in Drosophila Melanogaster Using a Dark/Light Box Test. Journal of Undergraduate Research Students (JOUST), Volume 6, (Issue 1), A1-A5.